Action Research

Abstract views: 166 /

PDF downloads: 102
Keywords:
editorial, Action research, science education
Abstract
This is the second issue of the newly launched journal ARISE. In the first part of this editorial some light will be shet on the characteristics of Action Research and Educational Action Research which makes it attractive in the field of science education and beyond. In the second part the three contributions in this issue will be shortly characterised.
References
Dewey, J. (1933). How we think: A restatement of the relation of reflective thinking to the educative process (rev. ed.), Boston: D.C. Heath.
Feldman, A., Altrichter, H., Posch, P., & Somekh, B. (2018). Teachers investigate their work: An introduction to action research across the professions (3rd ed.). London, New York: Routledge.
Heron, J., & Reason, P. (2008). Extending epistemology within a co-operative inquiry. In Reason P, & Bradbury H. (Eds.), Handbook of action research: Participative inquiry and practice (pp. 366-380). London: Sage.
Lewin, K. (1948) Resolving social conflicts: Selected papers on group dynamics. New York: Harper & Row.
Stern, T., Townsend, A., Rauch, F. & Schuster, A. (Eds.) (2014). Action research, innovation and change: International and interdisciplinary perspectives. London, New York: Routledge.
Townsend, A. (2013). Action research: The challenges of understanding and researching practice. Philadelphia, PA: Open University Press.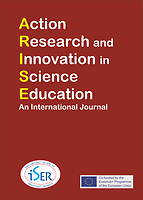 Downloads
How to Cite
Rauch, F. (2018). Action Research. Action Research and Innovation in Science Education, 1(2), 1–2. https://doi.org/10.51724/arise.8
License
This work is licensed under a Creative Commons Attribution-NonCommercial-NoDerivatives 4.0 International License.
Copyright © Authors